Custom Card Design & Production
Merchant Gateway offers exclusive customer credit card design and production. It's your card. We'll make sure it stands out above the rest.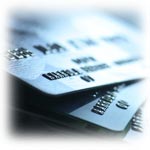 Mass Card Production
Merchant Gateway offers a single resource for card design, manufacturing, finishing, encoding and distribution. From credit cards and debit cards to ATM, loyalty and gift cards, Merchant Gateway has the resources to provide the finest plastics production. Our services include world-class graphic design, ink-jet printing, thermal graphics, custom shape trimming, encoding, fulfillment, and distribution. Whether you need 5,000 cards or 5 million cards, Merchant Gateway has the capacity to design and manufacture your plastics with the highest quality. Moreover, our plastics fulfillment department is streamlined in such a way as to allow us to meet seemingly impossible deadlines.
Micro Print Runs
Unlike the vast majority of card manufacturers, Merchant Gateway has the capacity to do micro-print runs of your custom credit and gift cards. If you need as few as ONE card up to 250 cards, don't hesitate to inquire about Merchant Gateway' remarkable micro-print run services.
Graphic Design
You card is more than a financial instrument, it is a mobile mini-billboard for your organization. Each card in circulation will be seen dozens if not hundreds of times each year. The Merchant Gateway media services department provides world-class graphic design services to insure that your custom designed card is visually appealing while strengthening your brand identity. We are proud to say that our graphics turnaround times are easily the fastest in the industry.
For more information about Merchant Gateway card production and design services, please contact us at 1-813-964-3975 or via email: info@newerapayments.com.

@ 2008-2015, Merchant Gateway LLC, is a registered agent of Citizens Bank, Providence, RI., N.A.